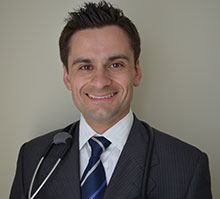 Dr Steve Marasovic is a Cardiologist and Specialist General Physician, providing consultative services.
Working with Western Health in 2008, Steve commenced his Advanced Training as an Intensive Care Unit Registrar. In 2009 he assumed the role of Chief Medical Registrar, overseeing the training of all Junior Medical staff before commencing his Cardiology training in 2010. Steve completed his Cardiology training in 2012 which included a 12 month period at Bendigo Health enabling him to service the rural community. His varied training was recognised by the College of Physicians and he was awarded dual qualifications as both a Cardiologist and Specialist General Physician.
Steve is a member of the Internal Medicine Society of Australia and New Zealand, Royal Australasian College of Physicians, Australian Medical Association, Medical Practitioners Board of Victoria/AHPRA and an Associate Member of the Cardiac Society of Australia and New Zealand. He has worked at the University of Melbourne teaching medical undergraduates clinical examination techniques. He also has several publications in the form of abstracts in prominent Australian journals.
Steve is the Co-founder of the Echo Heart Centre which offers a holistic approach in providing services to heart patients. Echo Heart has been established as a unique "Centre of Heart Health."
Qualifications
MBBS - Bachelor of Medicine and Bachelor of Surgery, University of Melbourne, 2000
FRACP - Fellow of the Royal Australasian College of Physicians for Cardiology & General Medicine in 2010
Specific Areas of Interest
Heart failure management as it is a growing problem requiring a multidisciplinary and holistic approach.
Prevention and early detection of coronary heart disease.
To learn more about Dr Steve Marasovic, please visit his website http://www.drstevemarasovic.com.au/

Lauren and Rebecca - Receptionists
Our lovely receptionists Lauren and Rebecca will be the first people you will see and talk to when you come to Echo Heart Centre. They will welcome you, answer your questions and book your appointments.
Echo Heart Centres Cardiac Technologists/Sonographers
Our friendly Cardiac Technologists/Sonographers will explain the tests and procedures to you, they will monitor your safety and comfort for the duration of the testing. They all work under the guidance of Dr Marasovic providing assistance in the diagnosis and treatment of heart disease.
They have vast experience in all areas of cardiology and take pride in ensuring that you are provided with the best of care.